NQuire350 How to upgrade NQuire350 via local update form old version To V1.01.006 or higher version

673 views

0 comments
How to upgrade NQuire350 via local update
Zip File to the NQ350 Drive
1. Turn on the NQuire. If it displays other screen other than the desktop, scan the Enter Setup barcode then Return to Desktop barcode to return to the desktop.
| | |
| --- | --- |
| Enter Setup | Return to Desktop |
2. Tap

on the desktop to view all the app list, then tap "Settings"

to open the system setting app.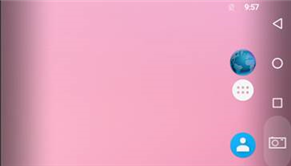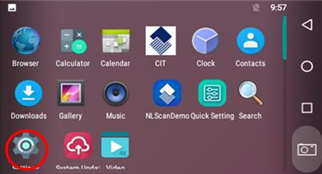 3. Tap "About tablet".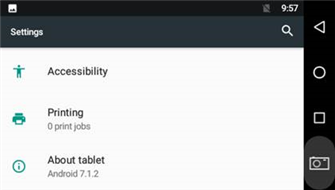 4. Tap "Build number" 7 times to become a developer.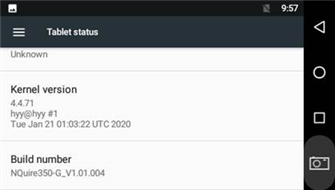 5. Tap

to return to the previous screen.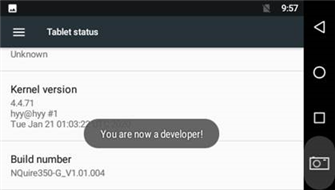 6. Tap "Developer options".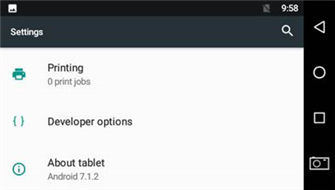 7. Select "Enable OTG".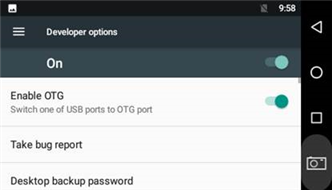 Select USB Configuraion: MTP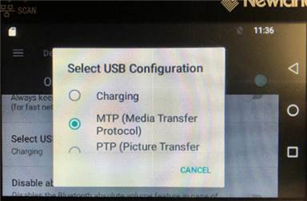 Connect the terminal to PC with the USB cable (USB male to male Cable). Swipe down the screen and it will pop up the notification bar. Find the "USB for file transfer" and tap it, then select "Transfer files".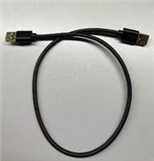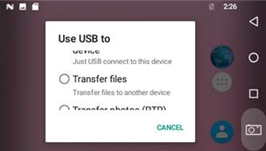 8. Copy the update zip file to the NQ350 drive.
9. Tap

to access the System Update screen.
10. Tap

in the top right corner of the System Update screen then select "Local Update".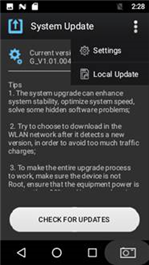 11. Select the update zip file. Then select "NEXTREBOOT" or "UPDATE".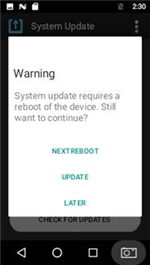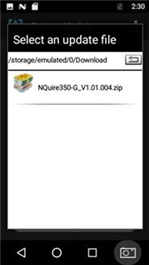 Upgrade old version to V1.01.006 or higher version TIPS:
When it successfully upgrade, and the device reboot, you may find the reboot isn't successful. Stopped in the below picture: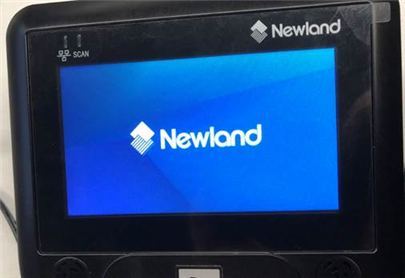 You need power off the device and then after about 10 seconds to power on . Then it will successfully start.(take about 30 seconds)
You can check the firmware version on the system update: