Bad Read Message
Scan the appropriate barcode below to select whether or not to send a bad read message when a good read does not occur before trigger release, or the decode session timeout expires, or the engine receives the Stop Scanning command.

A bad read message can contain up to 7 characters (HEX values from 0x00 to 0xFF). To set a bad read message, scan theSet Bad Read Messagebarcode, the numeric barcodes representing the hexadecimal values of desired character(s) and theSavebarcode. The default setting is "NG".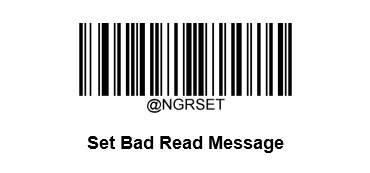 Refer to Digit Barcodes and Save/Cancel Barcodes to set the message you want.